FOUR LOCATIONS TO BETTER SERVE YOU

At the rapidly growing rural law firm of MJL & Associates (The Mona Jodoin Law Corporation), we are honing our skills in the areas of Real Estate transactions, Mortgages, Subdivisions, Estates, Corporations and Family Matters.
Mona Jodoin has been working in the legal realm for well over 20 years and opened her branch law office in Lorette over 5 years ago.  As that practice grew, along with her rapidly growing Steinbach practice, Mona Jodoin proceeded to open her own law firm.  Just over three years later, the Mona Jodoin Law Corporation now has four branch offices.
STEINBACH
Mona Jodoin has been practising law in Steinbach for over 20 years, and her appreciation of her clients' loyal business, and the many referrals she enjoys, is evidenced in her commitment to continue providing legal services in the Steinbach area for decades to come.  As Mona recruits new team members, she is focused on the need to ensure the longevity of this branch and her newest lawyer joining her team, Harveer Grewal, is evidence of that commitment. Harveer Grewal is committed to developing her legal practice in Steinbach and looks forward to assisting in the provision of legal services to this area.
ILE DES CHENES
The Mona Jodoin Law Corporation expanded to a new office building in 2018, located on Main Street in the town of Ile-Des-Chenes. This new full-time law office is a testament to her continued commitment to providing people in south-eastern Manitoba with quality legal services.
WINNIPEG – ST. NORBERT
With a consistent demand for the Mona Jodoin Law Corporation to provide services to the St. Norbert and south Winnipeg area, the firm has maintained its location in the office spaces of TALBOT & ASSOCIATES, in St. Norbert.   We are looking forward to providing more convenient services to our Winnipeg and Southern Manitoba clientele and meeting the many others that seek services in the St. Norbert area.
LORETTE
Though the Mona Jodoin Law Corporation has established a full time office in nearby Ile-des-Chenes, the firm continues to maintain its Lorette office in order to provide convenient service to its loyal Lorette based clients when needed.
Our Lawyers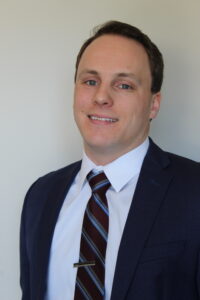 Erik joined our firm at the beginning of 2019 and graduated with his law degree from the University of Manitoba. He completed his articling year with our firm, and has been called to the Manitoba Bar and joined us as an Associate Lawyer.
Find out more